| | |
| --- | --- |
| Genre | heavy metal, Psychedelic Rock, doom metal, seen live, psychedelic |
There are at least 20 artists that have used the name Ghost:
1. A Swedish heavy metal band
2. A Japanese experimental rock band
3. A British trip-hop producer
4. A British dubstep collaboration
5. A Jamaican reggae musician
6. A Japanese visual kei band
7. A Polish death metal band
8. A British electronic producer
9. An American rock band
10. A Swedish rock band
11. An American rock band, now called Ghost Ghost
12. A French death metal band
13. A British dubstep DJ
14. A Canadian rapper
15. An American rapper
16. A British progressive rock band
17. A French nhw project
18. An ambient project (see gh((o))st)
19. An Italian pop-rock band
20. A Swedish Rock / Powerpop band
1) Heavy / Proto-doom metal band formed 2008 in Sweden. Ghost is the name of a devil worshipping ministry that - in order to spread their unholy gospels and, furthermore, trick mankind into believing that the end is ultimately a good thing - have decided to use the ever so popular rock music medium as a way to achieve their ends.
Standing motionless and anonymous beneath the painted faces, hoods and robes which their sect demand, the six nameless ghouls of Ghost deliver litanies of sexually pulsating heavy rock music and romantic lyrics, that glorify and glamorise the disgusting and sacrilegious, with the simple intention to communicate a message of pure evil via the most effective device they can find - entertainment.
In May 2010 Ghost were contracted to a UK based gramophone company called Rise Above Ltd, who swore an oath stating that they will assist the group in the task of spreading their musical blasphemies through formats such as Compact Discs, Long Playing Vinyl Records and something referred to as Digital Downloading, whatever that is…
The first Long Playing Ghost album "Opus Eponymous" will be released in October 2010 and it is understood and agreed that Rise Above Ltd will spend money on magazine advertising, retail marketing and will employ the services of music publicity specialists in order to expose the music of Ghost to the wider public.
Specific attention will be paid to targeting people (research suggests these are most likely to be adolescents) who have a void in their life, perhaps caused by some form of emotional trauma or upset, that can be filled by the music and philosophies of Ghost. In time, these easily manipulated children will come to share the views and goals of the Ghost ministry and can prepare their own plans for the downfall of humanity…"
"Real names of the band members are not revealed."
http://www.myspace.com/thebandghost
2) Ghost is an experimental rock group formed in Tokyo, Japan, in 1984.
Core-member Masaki Batoh grew up in Kyoto, Japan where he attended a private school. During this time, he became interested in American and British rock music ranging from Bob Dylan and Pink Floyd to the Velvet Underground and Japanese rock bands such as the Taj Mahal Travellers and the Flower Travellin' Band.
Later, Batoh formed Ghost with a large and often varying lineup. According to reports posted on Allmusic, the group lived a nomadic existence, drifting from ruins of ancient temples to disused subway stations around the Tokyo area.
The band began releasing their work with the albums Ghost and Second Time Around, which were released, respectively, in 1991 and 1992. The American independent label Drag City licensed each of the albums for distribution, and the Los Angeles The Now Sound label picked up two of Batoh's solo albums, released together as well under the title Collected Works. Two albums, Tune In, Turn On, Free Tibet and Snuffbox Immanence, were released simultaneously in 1999.
As well as their own work, Ghost have recorded and performed with the ex-Galaxie 500 duo Damon and Naomi. Five years after releasing both Snuffbox Immanence and Tune In, Turn On, Free Tibet, Ghost returned with Hypnotic Underworld, and there were some changes in the band. Cellist Hiromichi Sakamoto and percussionist Setsuko Furuya left and were replaced by a rhythm section of Takuyuki Moriya (electric bass guitar, double bass, and cello) and Junzo Tateiwa (drums, tabla, and percussion). In January 2007, Ghost released its latest studio album titled In Stormy Nights.
3) http://ghost.bandcamp.com
A British hip hop/trip hop/electronic producer on the Breakin Bread label.
He has released a number of singles/EP's, a mix CD and 2 album's.
4) The collaboration between one of Dubstep's forefathers El-B and J Da Flex, they created a darker, rawer offshoot of UK Garage on a label of the same name, that would ultimately pave the way for the sound of Dubstep. Blackdown is due to pay homage that early sound on his sequel to 'The Roots of Dubstep', with a collection of rare El-B and Ghost cuts on the new album 'The Roots of El-B'.
5) Jamaican Reggae artist Carlton Hylton.
6) A visual kei indie band (see ????? for more info)
7) Death Metal group from Poland (Gda?sk)
The Lost of Mercy
http://ghost.metal.pl/
8) Ghost is an electronic music producer and member of Cambridge based life4land crew. he has just released an E.P. called F.I.S.T. (myspace.com/fist or myspace.com/ghostoflife4land)
9) Ghost is a band from the United States. The band is based in Arizona and features the former vocalist for the now defunct band from New Jersey. www.myspace.com/ghostghostghost
10) A band formed by unnamed Swedish Air Force personnel.
11) There is a NYC band named Ghost Ghost.
12) A One-man band played Experimental Black / Doom Metal from France. Have released first EP in 2007 named "Brown Lady".
13) Ghost is an up and coming west london Dubstep DJ.
14) A rapper/producer hailing from Toronto, Canada.
15) Rashard "Ghost" Acuna was born and raised in East Oakland,California. He discovered his urge to make music while freestyling in the back of car to the Hot Boys' Guerilla Warfare. The group "Y.B.G" was formed with longtime friends Birch Boy Barie amd Murda Boy D. Since then he has been recording, battling, producing and performing whenever possible. Catapulted by the popularity of a rap beef, he went on to make a solo mixtape which established him as a Bay Area native to pay attention too. Mixing lyricism with the East Oakland swagger and adding some bass, his style was born. "Bwaaaaaaa" is a phrase often heard when mentioning Ghost's name. Since the start of his career, he had been a part many songs, instrumentals, performances, collaborations, contests, and is in completion of his 2nd underground mixtape.
16 Ghost is an English Melodic/Progressive Rock band. They released the excellent cd "The Other Side" in 1995.
17 A French hnw project.
18) gh((o))st (pronounced ghost) is an apocalyptic ambient/experimental project with no information given about the band member(s) nor instruments. A description of the music could be described as ethereal, droning, and eerie taking elements from drone, shoegaze, dark ambient, and sometimes noise. The entire discography is difficult to obtain and search for. Similar to bands like Stars of the Lid and Nadja.
19) Ghost is an Italian pop-rock band formed in Rome in end of the year 2001. The founding members are Alex Magistri and Enrico Magistri.
20) Ghost was a Swedish Rock / Powerpop band located in Finspång, Sweden. Members:
Anders Måreby (Vocals, Guitar, Keyboard)
Dag "Tom Nouga" Swanö (Guitar)
Per Runesson (Bass)
Source
Top Tracks
1
Mary On A Cross 2
Square Hammer
3
Cirice
4
Dance Macabre
5
Ritual
6
Year Zero
7
He Is
8
Rats
9
From the Pinnacle to the Pit
10
Con Clavi Con Dio
Top Albums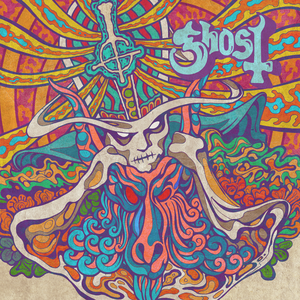 Seven Inches of Satanic Panic
tracks