| | |
| --- | --- |
| Genre | indie, alternative, seen live, indie rock, rock |
If you're a fan of indie rock's recent past, then you're familiar with the work of guitarist and singer/songwriter Ryan Ferguson. Ferguson has been a lynchpin of the San Diego music community since his high school days. He first came to international attention with his band No Knife. This seminal Southern California band toured throughout the world with prominent rock acts such as Jimmy Eat World, Cursive and Sunny Day Real Estate. Influencing many burgeoning artists of the time, No Knife earned four San Diego Music Awards before their untimely break up in 2003.
Going solo, Ferguson issued the acoustic based Three, Four in 2005. Self-released and supported by a U.S. tour with Switchfoot, the five-song EP sold thousands of copies through mail order and touring. The album's lead track, Suddenly, was interpreted for The Sims 2 (Electronic Arts) and swiftly added to regular rotation at San Diego's trendsetting 91X and Indie 103.1 Los Angeles. Three, Four scored a San Diego Music Award for 'Best Pop Album', with a tight collection of songs that set the bar even higher for future albums.
Ferguson's latest work is the culmination of a lifetime of influences. With Only Trying to Help, he expands his sonic palette and pop sensibilities, but loses none of his intensity. A lifelong San Diegan, Ferguson grew up in the 80's. He was a songwriter by the time he hit 7th grade, having absorbed the music of previous decades. "I was way into The Boss when I was a kid," laughs Ferguson, "And my uncle made me an instant Beatles fan by the time I was 12."
Fans of hook-filled songwriting in the grand tradition of Jellyfish and Brian Wilson on one end, and Wire or Superchunk on the other, will find Only Trying to Help essential listening. Ferguson has crafted a unique sound full of swirling acoustic six strings, double tracked vocals and chimes, all fused with his signature bombastic electric guitar. The effect is breathtaking as he wrings every last bit of melody out of each song. Over a year in the making, Only Trying to Help hits a little harder emotionally than Ferguson's past projects. A glance at the lyric sheet shows some heavy times indeed, but the pop edge of the tunes keep them from being melancholy.
"Because of the delicate subject matter, my goal was to write a real powerful record. One that people won't forget too easily." Ferguson succeeds. Despite a glossy pop edge and solid hooks throughout, the songs contain an intimacy that's quite affecting.
In addition to producing, Ferguson plays nearly every instrument on Only Trying to Help, including drums on In the Sea. Now known as a fiery guitarist, Ferguson was originally a drummer. "I really got into Rocket from the Crypt," says Ferguson, explaining the switch, which saw him helming No Knife through four albums. Inspired by guitarists such as John Reis and aMinature's John Lee, Ferguson blazed a trail of manic post punk rock 'n' roll lasting nearly a decade.
"I've always written pop music, so these songs aren't too far off from what I've always done," remarks Ferguson. And while his analogy might ring true on an anthemic rocker like Remission, the string and harmony-laden ballad Must be Friday Night shows a real progression in song craft. "I'm always thinking about new melodies. That's why I keep a little digital recorder handy."
http://www.myspace.com/RyanFerguson
Source
Top Tracks
1
Kill My Confidence
2
Suddenly
3
Remission
4
On Elvira Street
5
Not On My Watch
6
Wait For Me There
7
In The Sea
8
Windshield
9
X's & O's
10
Introduction
Top Albums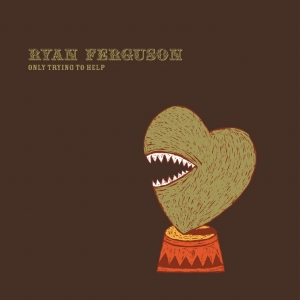 Only Trying To Help
tracks
My Favorite Song Writers
tracks